Call  +91-8604158000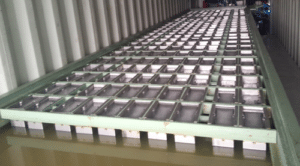 ICELINGS- LEADING MANUFACTURER AND EXPORTER OF BLOCK ICE PLANT IN INDIA.
ON SITE ICE BLOCK MAKER EXPORTED WORLDWIDE
ICE BLOCK MAKING MACHINE IN A CONTAINER.SAVE CONSTRUCTION COST WITH MOBILE DESIGN
Ice for industrial use has been traditionally made in the form of blocks of different sizes and weight. For applications where small fragmented ice is unsuitable, block ice is the best alternative. We can design and manufacture containerised block ice plant as per customer needs. Only high-quality refrigeration machinery and materials are used for manufacturing, ensuring high durability and minimum maintenance. The design of block ice plant is simple, and hence operations such as filling of the ice cans, ice-harvesting and ice-processing cans ,require minimum skills.